Men's Bioidentical Hormone Therapy Specialist in Scottsdale, AZ
Bioidentical Hormone Therapy restores hormone levels to a balanced state so that body can function at its best. Learn more about the benefits of Bio-identical Hormone Therapy for men by visiting us at Infinite Wellness Hormone Specialists Clinic. For more information, contact us today or schedule an appointment online. Our clinic is conveniently located at 7373 N Scottsdale Road, Suite B270, Scottsdale, AZ 85253.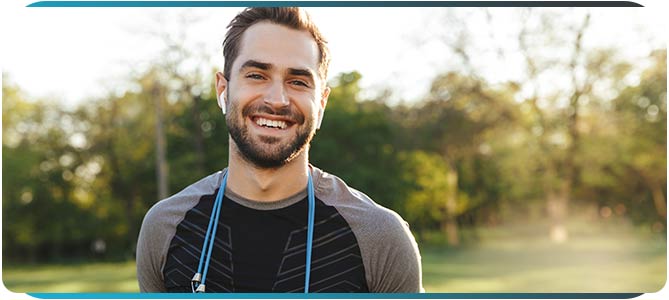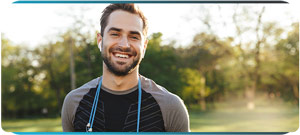 Table of Contents:
What is hormone therapy for men?
Does bioidentical hormone replacement therapy really work?
How does hormone therapy work?
What are the benefits of hormone therapy?
What is hormone therapy for men?

Bioidentical hormone replacement therapy (BHRT) in men is most commonly used to treat the symptoms of testosterone deficiency, sometimes called andropause. Although similar to menopause in women, the decrease in hormones and onset of symptoms in men is slower and subtler than it is in women; however, it can have a significant effect on their daily lives as they age—often manifesting in fatigue, weight gain in the abdominal region, deterioration of muscle tone, and moodiness. Low testosterone levels can occur at any age, even as early as the teenage years, and can be caused by a variety of reasons.

The most common hormone used in bioidentical hormone replacement therapy for men is testosterone. Sourced from plants like soy or yams, bioidentical testosterone is chemically engineered to mimic the testosterone produced naturally by the body. Seeing a specialist for treatment is important. There is more to the picture than just testosterone. Targeted medications such as estrogen blockers and treatments for ED can be used along with testosterone to improve outcomes.

Testosterone is necessary for male sexual development, reproductive function, building muscle bulk, maintaining healthy levels of red blood cells, and preserving bone density. In the United States, both "bioidentical" and "synthetic" testosterone medications are only available with a prescription from a physician.
Does bioidentical hormone replacement therapy really work?

Bioidentical hormones have passed the FDA's very strict testing standards and been approved as a safe and effective treatment for symptoms of hormone deficiency.
How does hormone therapy work?

Hormone therapy works by boosting levels of hormones that become depleted as a man or woman ages, typically using topical gels and creams, capsules, or pellets.

In men, hormone therapy is commonly used to treat disorders and conditions resulting from low testosterone levels, but it is also an established therapy in the treatment of prostate cancer. In this case, hormone therapy can be administered in a few ways:

Oral medication
• Testosterone Injection – synthetic testosterone injected into the muscle
• Testosterone Pellet Insertion – bioidentical testosterone implanted in the subcutaneous layer of tissue and slowly absorbed over many months time.
• Surgical intervention – a decrease in certain hormones can be achieved by surgical removal of the ovaries in women or the testicles in men.

Dr. Vanessa Mack (Dean) is a specialist in hormone replacement therapy for men, specifically Bioidentical testosterone therapy in the form of pellets. She will monitor your levels and dial in the right dose to help you feel your best.
What are the benefits of hormone therapy?

Although the effects of andropause in men are less well-known than those of menopause in women, they can still have a significant effect on their lives. As the field of medicine and healthcare progresses, the life expectancy of men increases, and it is becoming more evident that hormone therapy for men is playing a crucial part in maintaining the health and well-being of men as they enter their golden years. The depletion in male hormones not only causes sexual dysfunction, but it also contributes to many other health concerns, leading to a decreased quality of life in older men, along with increased health costs. Hormone therapy can provide important benefits for men as they age, allowing them to continue to experience life with the same "get up and go" that they once did.

Some of the benefits of hormone therapy for men include:

• Increased energy and motivation
• Increased libido
• Help with erectile dysfunction
• Improved cognitive ability
• Better weight maintenance
• Building muscle mass
• Improved sleep patterns and decreased insomnia
• Stabilize mood
• Reduction in mood swings and depression
• Helping to ease anxiety
• Help prevent prostate problems
• Strengthening bones to prevent fractures in later years
• Lower the risk of heart disease
• Improved urinary function
• Arresting the onset of gynecomastia
• Slowing hair loss

If you would like to know more about bioidentical hormone replacement therapy for men, contact Infinite Wellness Hormone Specialists today! We serve patients from Scottsdale AZ, Tempe AZ, Mesa AZ, Paradise Valley AZ, Chandler AZ, Phoenix AZ, and BEYOND!