Injectable Nutrients Specialist in Scottsdale, AZ
Learn more about the benefits and why we need Injectable Nutrients treatment by visiting us at Infinite Wellness Hormone Specialists Clinic. Ask Dr. Vanessa Mack (Dean) about nutrient injections available at your next appointment. For more information, call us today or schedule an appointment online. Our clinic is conveniently located at 7373 N Scottsdale Road, Suite B270, Scottsdale, AZ 85253.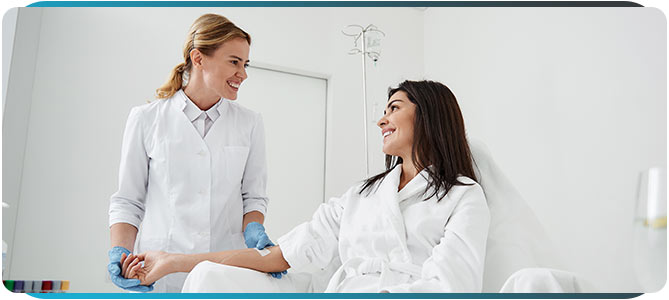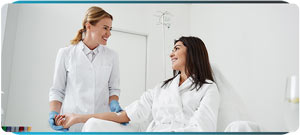 Table of Contents:
What is nutrient injection?
What are the benefits of a nutrient injection?
Are nutrient injections good for you?
Vitamin and mineral deficiency are widespread in the United States, in both children and adults. Sufficient intakes of these micronutrients are essential for the growth and development of children, as well as maintaining overall health throughout one's life. Common vitamins and minerals that people can be deficient in are vitamins A, B1, B12, C, D, E, and K together with folate, selenium, zinc, copper, and iron. Some examples of deficiencies are:
Vitamin A – impaired immunity, growth, and night blindness
Vitamin C – impaired wound healing and bleeding from
Iron – anemia
Vitamin D – rickets and loss in bone density
Vitamin B12 – pernicious anemia; may result in neurological damage
Treatment for nutritional deficiencies depends on the deficit, and what's causing it. Oral medications may be prescribed, and intramuscular injections, or injections into the muscle, are also used.
What is nutrient injection?

The nutrient injection is a method of delivering vitamins and minerals – called micronutrients – to a person with a particular deficiency. They are intramuscular (IM) injections and are quick, safe and efficient. They are virtually pain-free, with most patients noticing little to no discomfort. IM injections are typically done in the buttocks but can also be done in the deltoid muscle along the shoulder. Delivering nutrients this way allows for more efficient absorption and use of the vitamins and minerals by the body; since they bypass the gut there is no question of the gastrointestinal (GI) tract absorbing the nutrients before the body has gained the full benefit. It is also possible to deliver a higher and more therapeutic dose via an IM injection without the risk of causing irritation to the stomach. IM injections are an ideal solution for the immuno-compromised, for those who can't absorb nutrients well or are deficient in certain nutrients. They can also be used for a boost of energy, and to support metabolism and immune functioning. Vitamin B12 and B-complex shots are common IM injections.
What are the benefits of a nutrient injection?

The benefits of nutrient injections lie primarily in correcting a particular deficiency and reducing or eliminating the symptoms thereof, but they can also be used to give a boost of energy or to help strengthen the immune system and improve metabolism. They can also help to relieve stress, rid the body of toxins, balance hormones, and make the skin healthier. They have even been used to cure hangovers!
Are nutrient injections good for you?

Nutrient injections can certainly be beneficial in helping to correct deficiencies and return a person to better overall health.

At Infinite Wellness Hormone Specialists, we offer a vitamin B complex + MIC shot that we call the "Infinite Energy Shot". MIC stands for methionine, inositol, and choline, which are classed as lipotropic agents for their function in breaking down and metabolizing fat. B complex vitamins are essential in maintaining good health as well as helping to prevent infections and promoting, among other things, cell health, growth of red blood cells, good eyesight, healthy brain function, good digestion and a healthy appetite, hormone and cholesterol production, and cardiovascular health. A deficiency in certain B vitamins can result in anemia, fatigue, loss of appetite, abdominal pain, depression, muscle cramps, respiratory infections, hair loss, eczema, and birth defects, so it is important that optimal levels of these essential vitamins are maintained. That's where the Infinite Energy Shot comes in! Several injections will likely be needed to receive the full benefit, but the following can be achieved from a B complex + MIC injection treatment program:

• More energy
• Improved mood and cognitive ability
• Better digestion and metabolism of fats, carbohydrates, and proteins
• Removal of fat from the liver reducing the risk of fatty liver disease
• Lower cholesterol levels
• Reduced risk of heart attack, stroke, or dementia
• Improved skin tone
• Healthy, strong hair and nails
• Promotes healthy hair growth

If you would like to know more about nutrition injections, and especially our Infinite Energy Shot, contact Infinite Wellness Hormone Specialists today! We serve patients from Scottsdale AZ, Tempe AZ, Mesa AZ, Paradise Valley AZ, Chandler AZ, and Phoenix AZ.